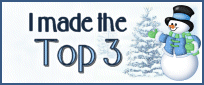 Na hat sich das nicht gelohnt???
Ich bin unter den TOP 3 bei der Winter-Wonder-Challenge *freu*

Also ich glaub jetzt hats mich richtig erwischt!!!
NEEEEEEIN, ich bin nicht krank - nur süchtig (-;
Da hab ich doch tatsächlich einen Weg gefunden kleine Röschen selber zu machen!!!
Und eins könnt ihr glauben - wenn man auch nur eins ausprobiert, hat man dann mindestens 20 daliegen.
Und passende Farben zur jeweiligen Projekt kann man sich ganz nebenbei auch noch zaubern.
So sind heute jede Menge ROT/WEIßE Blüten entstanden. Aber seht selber!!!
Die Karte gehört zu folgenden Challenges:
cupcakecraft
= all you need is love
craftycardmaker
= Perlen
creativecard
= seeing red
cards&more
= nimm 3
papertake
= happy highlights
everybodysart
= Schnörkel
WoJ
= love is in the air
cutecardsthursday
= music/Dance
totallypapercraft
= make your own flowers
Stempelträume
weiß + noch eine Farbe
mariannedesin
in with the new
WinterWonderland
= Easel Card
Danke fürs anschauen.
Ich freu mich über jeden Komentar von euch (natürlich auch sehr über die von NICHT - Bloggern).
LG Dan